Thar she bloooowwwwwsssssss!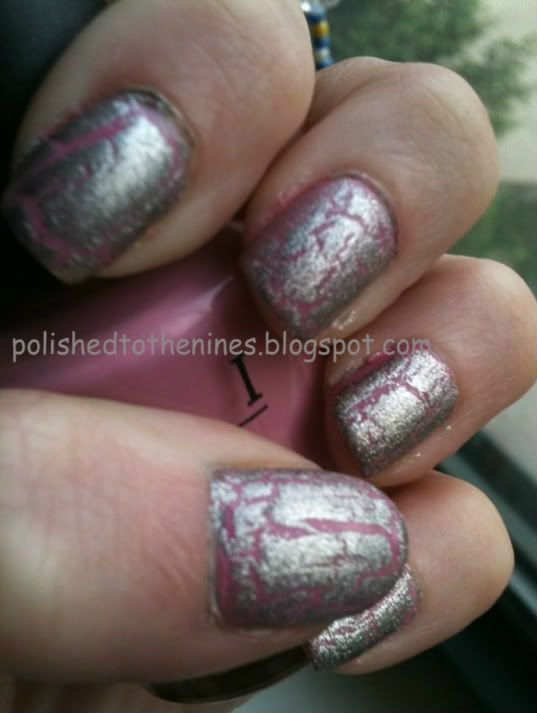 I love Silver Shatter! My first shatter/crackle polish experience surely did not disappoint. I applied two coats of Sparrow Me The Drama as my base polish, which I regrettably did not take pictures of (Grrr), but was a gorgeous dusty yet still bright medium pink. Then I followed with a coat of Seche Vite top coat before applying one medium-thickness coat of silver shatter to top it all off. The reason I'm gripping SMTD with an awkward claw grip is to include my thumb in the pic because of how awesome the polish shattered on my thumb.
After a day of this beautiful mani I got to thinking about how cool a layer of Black Shatter would look with it as well. In my excitement to try it out I neglected to put a top coat over Silver Shatter before I applied Black Shatter, and this is how that turned out: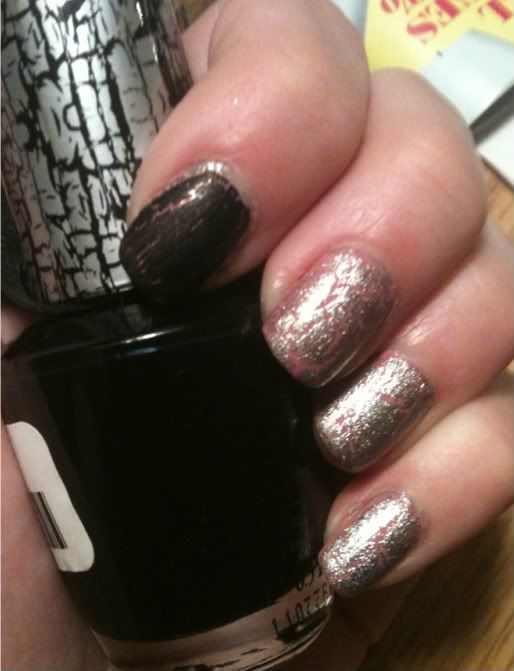 D'oh! Let that be a lesson learned to all. OPI Shatters do not play well together when layered. As you can see, it basically looks like I painted a black matte accent nail, there's just one measly little crack. -.-
Next time I'm feeling adventurous I'll be sure to remember to use top coat in between Shatters!
Been lemming a bottle of Silver Shatter but unable to get your hands on one? Check out
The Trace-Face Philes
to enter her 200 Follower Giveaway! I know I will be! I've had my eye on a bottle of Sapphire in the Snow for ages and who couldn't use a back-up bottle of Silver Shatter? There will be three winners total and polishes from both OPI and Orly up for grabs. Click
here
to enter the giveaway!

Here is a group shot of the prizes!