For Crackle polishes that is. Despite warnings, I caved and purchased Sally Hansen's Antique Gold crackle overcoat. (Traci is probably shaking her head in disgust if she's reading this!) I just couldn't resist though!!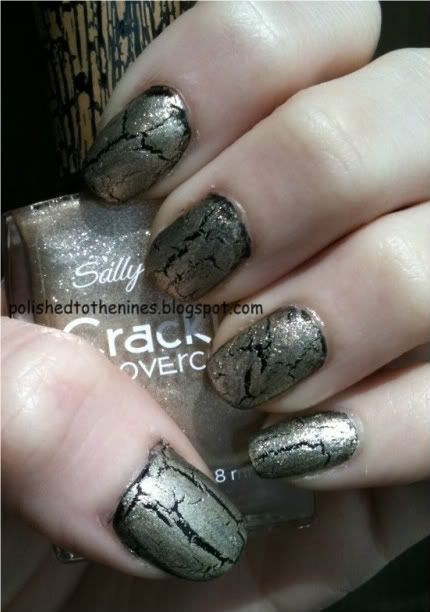 My experience with Antique Gold wasn't nearly as bad as hers. Not nearly as good as my
OPI Silver Shatter
turned out though. I tried applying it different ways, on the thumb and pinkie it is applied the way I normally put on my polish, from cuticle to tip. On my pointer, middle, and ring finger it is applied sideways, which was kinda tricky and gave me a different crackle effect. The color is more of a champagne gold then a bright yellow Gold. It looks like a crackle version of my favorite gold polish FingerPaints Key To My Art.
Overall, I give the crackle effect on this one a C+. I would have liked to see more of the base color peeking through (It was Zoya Raven, which is beautiful) and there was one finger where I had a really bizarre effect. Look at my middle finger! Half crackled half... not?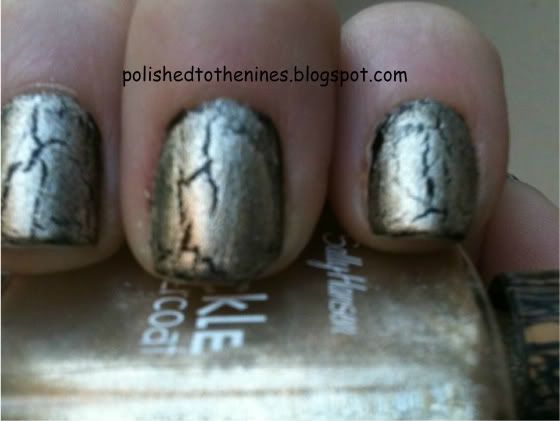 WTF?
So yeah.. uncertain about how that happened. That isn't as weird as my ELF Matte Top Coat experience though, remember
that one?
I'm still up in the air over keeping Antique Gold. It's not bad, but I'm curious to see how the China Glaze Crackle Metals collection is going to turn out, and if I'll even be able to find it around me! Any thoughts? Should I put AG up on my MUA for a swap?