Oh Harry Potter. Those books are a critical part of my childhood and by far my all time favorites. I little part of me died when the last movie was over. Right now I'm suffering from PPD (Post Potter Depression) as my friend Sam calls it. I'll probably read all the books again to try and cure it. Naturally I did an HP mani before I went to see the final movie. :D I decided to do all the Horcruxes and a couple other prevalant HP symbols like the Deathly Hallows sign, the lightning bolt, and the snitch the ring was hidden in. Zoya Raven provided the perfect black shimmery base, and I am pretty happy with how it turned out.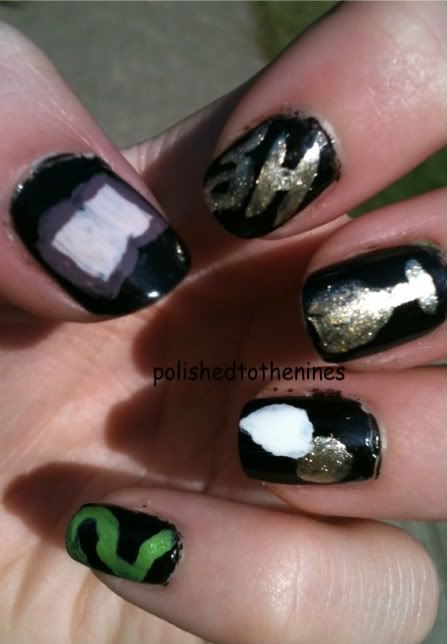 Left Hand
Thumb to pinkie: Riddle's diary, HP initials, Hufflepuff's cup, golden snitch, Nagini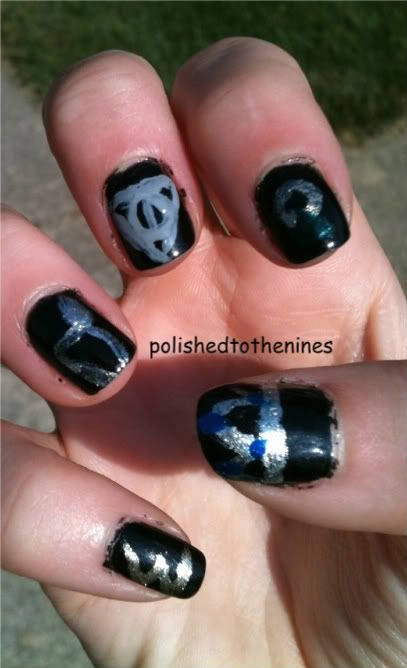 Right Hand
Thumb to pinkie: Ravenclaw's diadem, the Resurrection Stone, DH symbol, Slytherin's locket, lightning bolt.
Now that I'm thinking about it I totally should have done the sword of Gryffindor... me thinks another HP mani will be in order for the next time I see DH in theaters.
Anyone else see the movie? Anyone else sob in the theater? At one point I made everyone around me laugh XD. Without revealing too much (POTENTIAL SPOILER ALERT!) at the part where Draco and Voldemort awkwardly embrace I whispered "Worst hug ever." to my friend and everyone around us was cracking up. Anyways. I'd love to hear people's movie opinions, overall I really liked it. I have my complaints, being the elitist HP snob that I am, but I did really like the past two movies a lot more then the first six.