About this pretty little thing! From Nicole by OPI's target exclusive holiday collection I bring you Fell From the Tree. FFTT is my own personal piece of emerald green heaven. It is the exact color of my birthstone, and not to mention a perfect holiday green. The photo is almost exactly color accurate but makes it appear a little brighter then it really is. Application was perfect, opaque in two coats and the formula was a dream. Over Christmas I wore it topped with China Glaze's Party Hearty.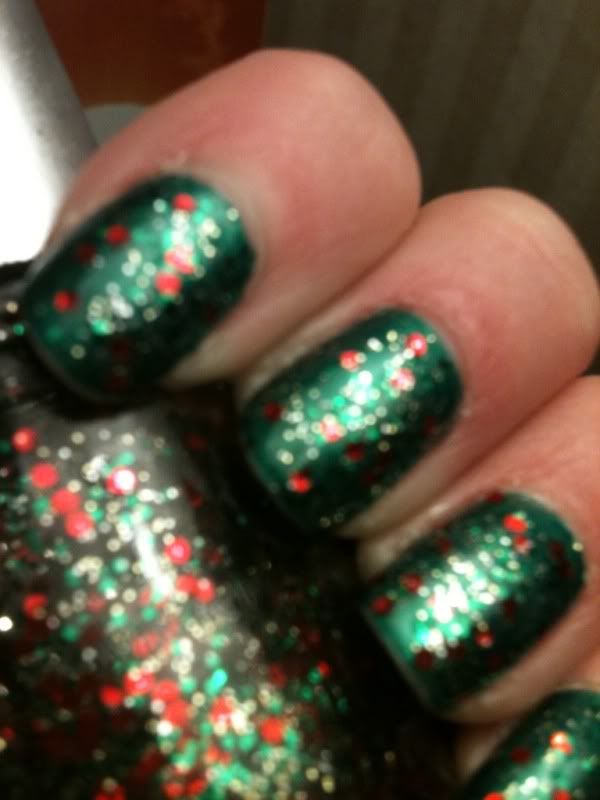 The picture didn't turn out very well :-( Bad lighting AND blurry but they looked so good together!
In my opinion this fall/holiday boasted some of the best collections. I loved every bit of OPI Swiss, CG Vintage Vixen, OPI Burlesque and CG Tis the Season to be Naughty or Nice? As far as spring goes the only collection I've felt that every color was a must have has been Zoya Intimate. Texas was a flop in my opinion but that's mainly because of the "sorbets." I detest VNL and those six colors are all so similar that they could almost all pass for the same one. There is just nothing in the entire collection that sticks out at me. I did end up getting I Vant to Be A-lone Star and although I haven't tried it yet one polish won't have me eating my words about the rest of the lackluster collection.
Don't get me wrong, there are several colors in Anchor's Away that I adore (First Mate, Sea Spray, Life Preserver) but the collection as a whole is not a must have. I suppose since Intimate is only a six color collection then it might be easier to make a dynamite collection filled with must haves, or maybe I'm just hard to please ;-)
On the other hand I was super excited to scoop up all of the holos coming out in the Tronica collection but balked as soon as reviews on a lot of the blogs I read claimed they boasted a much weaker holo effect then the famed OMG collection. Boo! What happened in two years that CG can't make a decent holo anymore?