You guys may have noticed the lack of updates... including the lack of Giveaway winner announcement, which I PROMISE I am getting around to. I have returned to my senior year of nursing school and things are already insane, and I foresee having very little spare time to post. Also, two days of the week I have to do clinical rotations at nearby hospitals where I am not allowed to wear nail polish! (the horror!) In other words, I will try my best to post weekly, but probably not more often then that. Next semester however I will only have two classes, so I can get the ball rolling again this spring!
Another reason updates will be fewer is that I will soon begin training to run a half marathon... 13.1 miles! It is called the Monster Dash in Chicago, and my friend and I will be dressed as Legolas and Aragorn from LOTR! It's going to be great! I have decided to blog about my training experience and run to raise money for the family of two of my closest friends, whose 19 year old brother was diagnosed with leukemia this summer. I will be setting up that blog soon with a paypal setup so people can donate right from the website! This is very important to me, and unfortunately will have to take priority over Polished to the Nines as I won't be able to keep up with two blogs while going to school full time, working 10 hours a week and training... yikes!
If you've read this far- thank you! I'll include at least one nail picture as a reward XD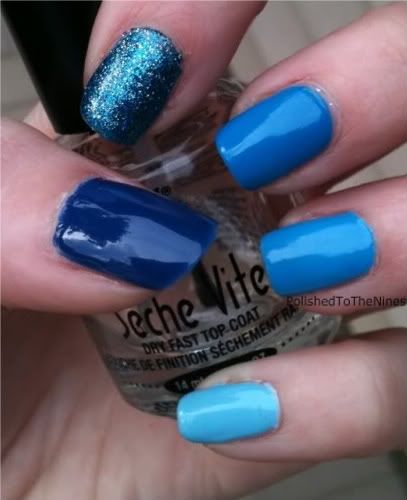 I call it... OPI Blues Ombre Magnificence. I LOVED this mani with all my heart. I'll probably redo it exactly the same again- it was that good. The blues were perfect!
For this I used: (from pinkie to thumb)
What's With the Cattitude?
No Room For the Blues
Ogre the Top Blue
Absolutely Alice
Dating a Royal